Network backbone
Core networking reinvented#
The term "core" is overused and often misleading in networking terms. We prefer using the term backbone to describe the upstream decentralised services that generally act as (at a minimum) transit hubs for the edge sites.
Spine and leaf topology#
Different topologies are possible, but the default is spine and leaf, where each edge node (EVX) is connected to muliple Network Fabric Routers (NFRs), each in a different geographically located datacentre.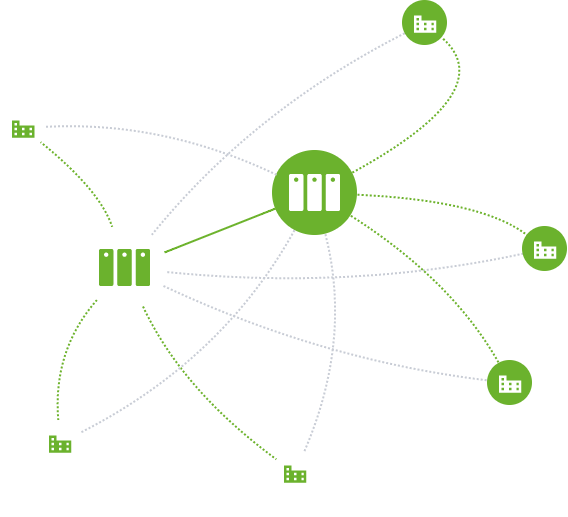 Each site in this network is connected simultaneously to both datacentres, yet each datacentre is the primary for only half the connections. This way the entire network is always used, but half of the backbone components are ready to receive 100% of the connected sites.
No automatic reconfiguration#
Datacentre availability detection is achieved through routing preference. If a datacentre NFR can no longer send or receive data, then its route is dropped and the next preference is used automatically.
This decision is made independently by each EVX edge node. There is no centralised orchestrator or monitoring platform making these decisions, and no reconfiguration or alternative temporary configuration is applied.
As soon as the failed NFR is restored and passes a health check, the routes are restored and propagated to each EVX without manual intervention.
Customised backbones for networks#
Each organisation requires different amounts of bandwidth, resilience and access to services.
Backbone solutions can be designed to include internet transit, cloud transit, connections to third party datacentres and networks, ZTNA solutions such as Zscaler.
Hosting and Colocation is available within the datacentres the NFRs are hosted in, meaning apps and data can be relocated to the centre of a network.
Security services can be designed around the needs of the network, including hosting (physically or virtually) a security stack distributed in the Evolving Networks Software Defined Network (SDN) backbone, or using cloud based security services such as Cisco Umbrella.
---
Last update:
February 9, 2023